How to Use Entertainment Media to Create Badass Content
Did you know that the first words spoken in cinema were "Wait a minute, wait a minute. You ain't heard nothin' yet"? Fitting considering how much of an impact film, TV, and even commercials have had on the world! Most people think they serve as a form of entertainment or an escape from reality, but they're so much more!
By taking the time to dissect and analyze entertainment media, you can uncover a whole new world of useful information to apply to your online business.
If you're like me, you're able to see the value in a variety of works, not just the critically acclaimed ones. And that's great! But what does your affinity for entertainment have to do with your brand development, content creation, or social media management business? So. Much. And trust me, you don't have to be a film student to understand this.
Let's dive into a few of my favorite movies to show you what you can take away from reviewing this medium.
Brand Development
Charlie and the Chocolate Factory
Of course, the Gene Wilder version reigns supreme, but don't sleep on the Johnny Depp version either. As Burton crafted the backstory for each character, he particularly spent more time on that of the infamous Willy Wonka.
Though he comes off as the greatest thing since sliced bread, he truly, deep down, is flawed. This is revealed throughout the film by flashing back to various instances from his childhood, contrastingly depicted in muted tones.
What does this have to do with brand development? The answer: color branding!
It's one thing if the colors look nice together, but it's another when you dive deeper into what certain colors mean. When developing a brand, it's important to showcase the right colors in order to give off your client's desired message. As shown in this film, the factory showcases bright and poppy colors to give off a warm, welcoming vibe, whereas the flashbacks from Wonka's rough childhood showcase dark and muted colors to give off a desolate, dreary vibe.
So the next time you're developing a brand's color scheme, don't be afraid to Google up "use of color in film/TV" for the industry color wheel. Each color is simply broken down into their various meanings, which might serve you well as you piece colors together!
Content Creation
The Way Way Back
This is my favorite film of all time. The Way Way Back centers around Duncan, a 14-year-old boy who's forced to spend his summer with his mom and her boyfriend at his beach house.
Duncan's a pretty awkward kid, but through the course of the film, he comes out of his shell and finds himself after picking up a summer job at a local water park.
What does this random indie movie you probably have never heard of have to do with content creation? The answer: the way it makes you feel!
When creating content, the most important thing to make sure of is that your content resonates with your target audience. Can they relate to it? Can it connect with what their wants or needs are? Does it make the audience feel like it was made for them?
In order to achieve the goal behind the content you create (maybe it's gathering leads, creating brand awareness, or making a sale), your content should ultimately connect with your target audience.
What films or TV shows have made an impact on you? Did a certain character just get you? How did that scene make you feel? Take a moment to look back on some of your favorite films, answer these questions, and see if you can make those same feelings come out through the content you create!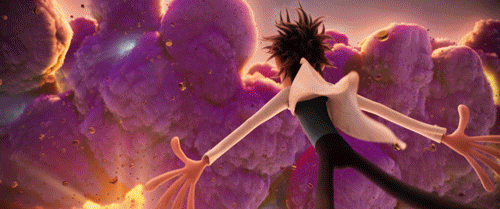 Social Media Management
Cloudy with a Chance of Meatballs
You're probably thinking, "Really, THIS movie?" YES! Since social media management encompasses so many facets, I'm going to focus on the concept of brand voice for this example.
In this movie, Sam Sparks is an intern at a local weather station that is assigned to cover the events happening in Swallow Falls. As the movie progresses, she encounters several obstacles that stop her from truly being herself. By the end of the film, she refines her voice as a weather reporter and goes from being shy and timid to confident and proud of who she is!
What can you take away from some food falling from the sky? The answer: finding your voice!
Whether helping a brand from the ground up or jumping into something already established, keeping a consistent, strong brand voice is key for success. From messaging influencers to writing captions, maintaining the tone in every word you type is extremely important! It may take time to determine how you want to come across on social, but when you solidify your voice, you'll soar (which is exactly what happened to Sam!)
If you're not familiar with working in the world of entertainment, I hope this article gave you an informative crash course! It's amazing how much you can learn from dissecting your favorite pieces of entertainment. And who would have thought it'd help you in your online business? (Me! That's why I'm here to help!)


---
Author Kellie Daniel
Kellie attended Chapman University's Dodge College of Film and Media Arts, receiving her BFA in Television Writing and Production. She now runs Second Act Media, a content creation studio specializing in brand development and social media management.
connect with Kellie
Girl, Don't Miss a Thing!
Join our mailing list to receive the latest news and updates from our freedom-seeking community, including how to build and grow your own freelance business.